The Do's and Don'ts of Handwashing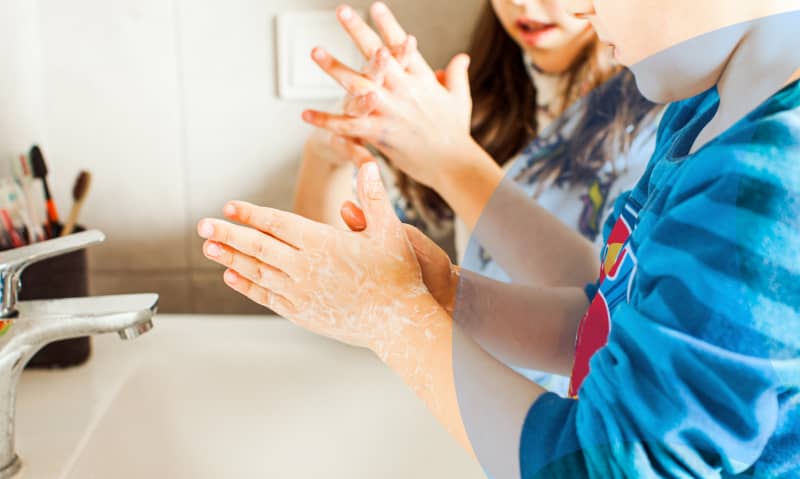 Handwashing Tips and Tricks
The first of December marks the start of National Handwashing Awareness week, so we thought we'd kick things off with the do's and don'ts of handwashing. These simple tips and tricks will help you make sure your kids are washing their hands the right way. Let's get started.

Do wash your hands for at least 20 seconds.
Wash your hands with soap and water for at least 20 seconds. That's enough time to create a good lather and scrub those oft-forgotten nooks and crannies: the backs of the hands, underneath the fingernails, in between the fingers, and on the wrists. If you're helping your child learn handwashing, singing "Row, Row, Row Your Boat" twice can act as your 20-second timer.
Don't only do it after visiting the toilet.
Our hands aren't only exposed to germs in bathrooms. Your hands may look clean, but your fingers easily pick up invisible microbes from any surface they come into contact with, and according to dozens of studies, bacteria from your hands often ends up on other parts of the body. Making a habit of washing your hands is the best way to remove any germs that they pick up. The American Medical Association and American Academy of Family Physicians offer several good hand hygiene best practices: Wash your hands when they're visibly dirty and before eating, avoid touching your face with your hands, and always cough or sneeze into your elbow.
Do use soap and water.
Observant bathroom-users have probably noticed how alarmingly widespread non-handwashers are. In fact, around 40% of American adults don't wash with soap after using the bathroom at home—even though washing with soap removes substantially more disease-causing organisms than washing with water alone. For people who avoid soaps because of skin irritations, consider switching to hypoallergenic alternatives. And if your hands feel dry, use thick hand cream immediately after washing to keep them moisturized.
Don't touch anything else.
Ruining a good handwashing session is as easy as switching off the tap and placing your hands directly on the public restroom doorknob. Faucets, sinks, and door handles are fertile breeding grounds for bacteria. Take extra precautions to avoid touching them. This can be as simple as using a towel to turn off the tap and to open the door.
Do supervise.
It may take a while for your child to wash their hands thoroughly or to even remember to do it at all. But just as germs and bacteria are resilient in their efforts to enter your body, you need to remain persistent in reminding your child to wash their hands. Supervise your child during handwashing, or better yet, lead by example and wash your hands too. It may be impossible to keep our favorite patient's (your child's) hands germ-free, but making sure your little one washes their hands frequently can help prevent some of the 840,000 germs we're exposed to on an average day from entering their body and causing illness.
Spinnaker Pediatric Dentistry is here to help your child with their oral health needs.
While you are teaching your child the benefits of washing their hands, it's also important to teach them how good oral hygiene habits can ensure they have healthy, happy teeth for their lifetime. If your child is ready for their six-month checkup, you can book an appointment online via our website. We can't wait to see you!